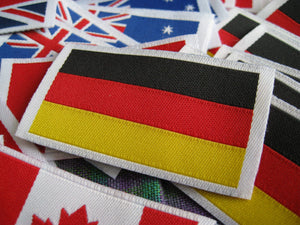 German Flag Woven Labels 50pcs High Quality Damask
Regular price USD $10.00 USD $8.00 Sale
Add a patriotic touch to your products with our high-quality German Flag Woven Labels. This set of 50pcs Damask labels features a durable and intricately woven design that showcases the iconic German flag. Perfect for clothing, accessories, and other handmade items, these labels are a must-have for any proud American maker. Shop now for a touch of Americana in your next project!
Each label was pre-cut, ready for sewing into your products

Label sizes were 31mm x 51mm 

** How long does it take to ship out orders?
• Lead time is 1-3 working days after the order and payment are received ( Not including shipping time )

*** How long does it take to receive my order?
• Shipped by "E-Express" from Hong Kong to major international cities, delivery time 7-14  days.
• We do offer Speed Post Express and DHL ( Speed Post delivery time 3-7 days to major international cities )
**** We are more than happy to help with any queries – just Contact Us 

• Business hours are 9:00am-6:00pm Mon-Fri PST. Please note that if you are ordering on an evening, weekend or holiday we may not respond until the next business day.